images/uniterevolution/banner/page_header_line_blue.png
images/uniterevolution/banner/page_header_line_blue.png
ALIGN T-REX 800E PRO Super Combo RH80E16
The ALIGN T-REX 800E PRO Super Combo is an 800 class flagship designed specifically for 3D flights. The CCPM direct connect servo design, coupled with FL rotor head assembly, results in fast, precise, and more direct control reaction. The frame material integration technology is utilized on the landing gears and vertical tail fin, creating a unique look not only making the T-REX 800E PRO stand out, but also resulting in an innovative design that encompasses structure rigidity along with beautiful aesthetics.
Nothing was spared in the electronics components of the kit: The mighty power of the 850MX(490KV/4535) motor paired with RCE-BL200A Brushless ESC speed controller for unparalleled power output; The new CNC machined aluminum cased DS820M brushless high voltage cyclic metal gear servos paired with DS825M rudder metal gear servo not only exhibited top of the line servo aesthetics, but also combine heat sink function and best performance in the market segment.
The ALIGN TREX 800E PRO can be described as the current top of the line flagship representing ALIGN's superior product line. Based on the pedigree of pure 3D flight, the newest design concept with absolute top of the line equipment, along with superior aesthetics and attractive lines, the ALIGN 800E PRO will definitely elevate the adrenaline in your blood!












images/products/trex_800e/RH80E16XW-2.jpg
images/products/trex_800e/RH80E16XW-3.jpg
images/products/trex_800e/RH80E16XW-4.jpg
images/products/trex_800e/RH80E16XW-5.jpg
images/products/trex_800e/RH80E16XW-6.jpg
images/products/trex_800e/RH80E16XW-7.jpg
images/products/trex_800e/RH80E16XW-8.jpg
images/products/trex_800e/RH80E16XW-9.jpg
images/products/trex_800e/RH80E16XW-10.jpg
images/products/trex_800e/RH80E16XW-11.jpg
images/products/trex_800e/RH80E16XW-12.jpg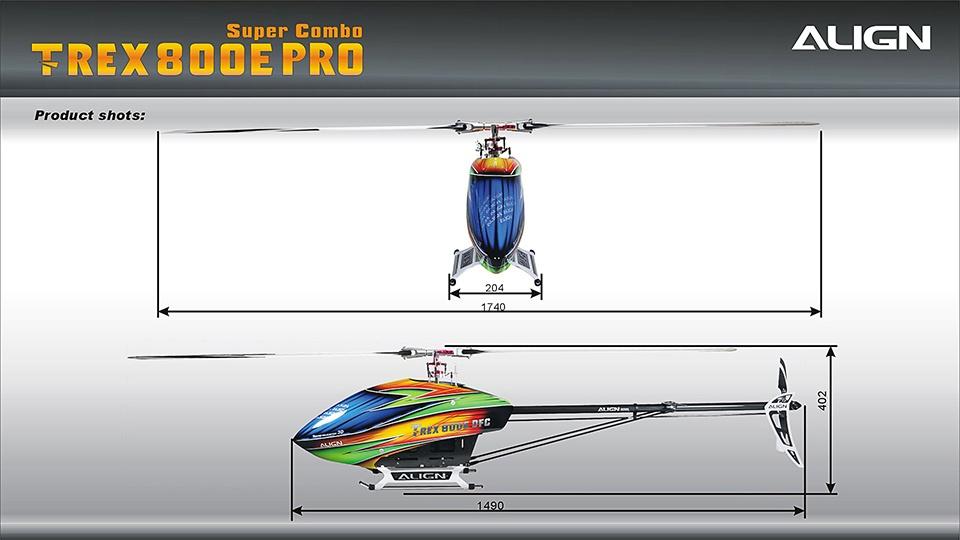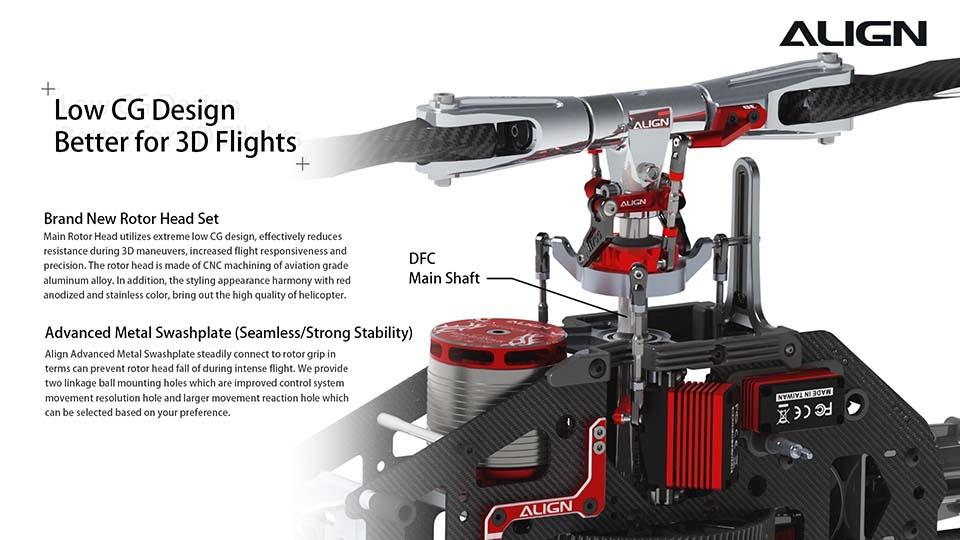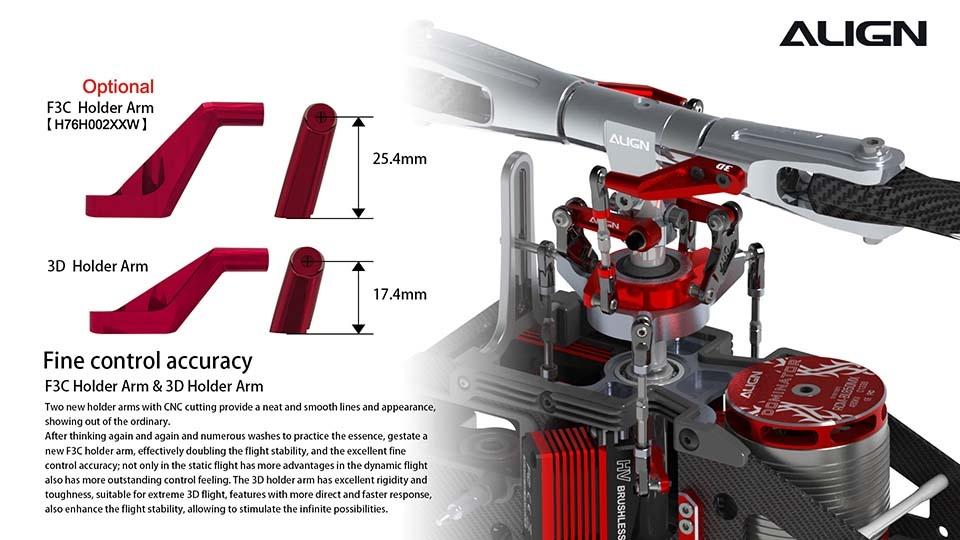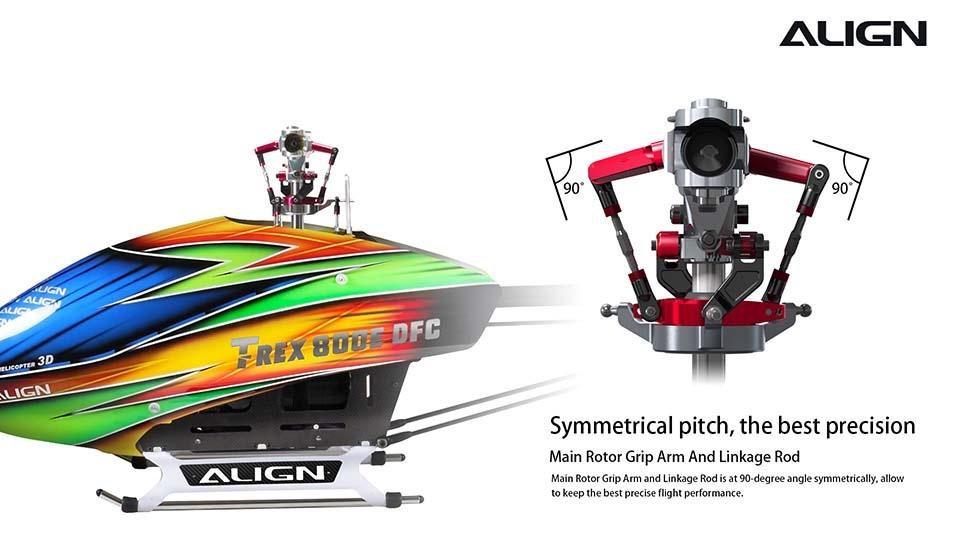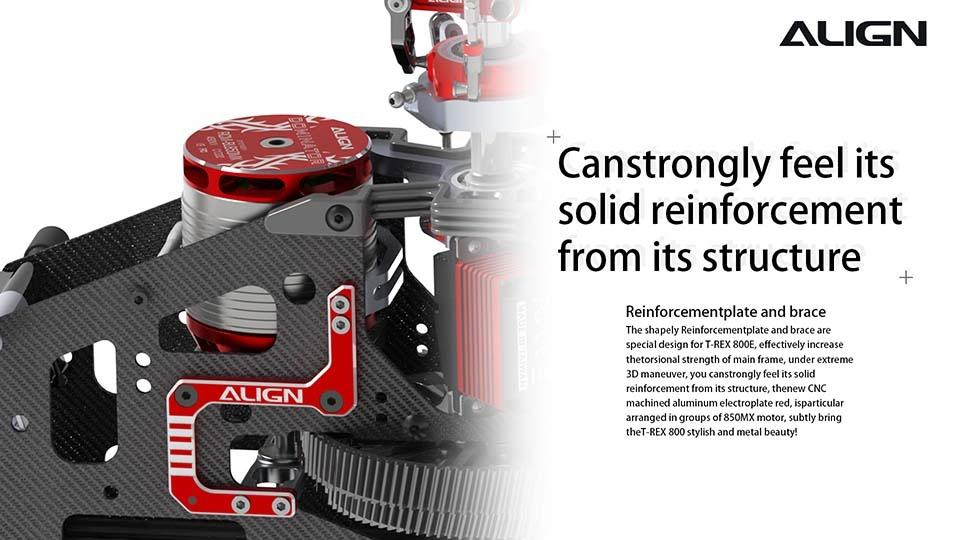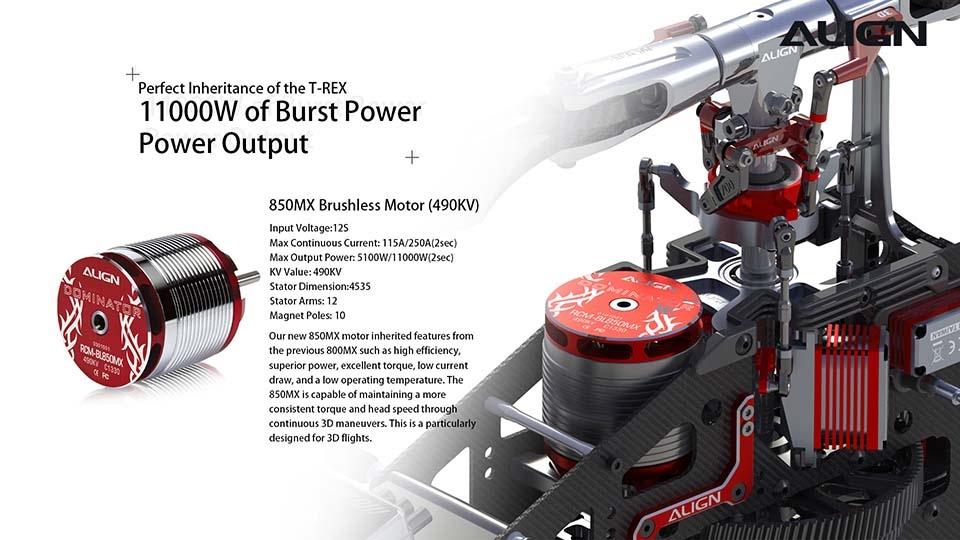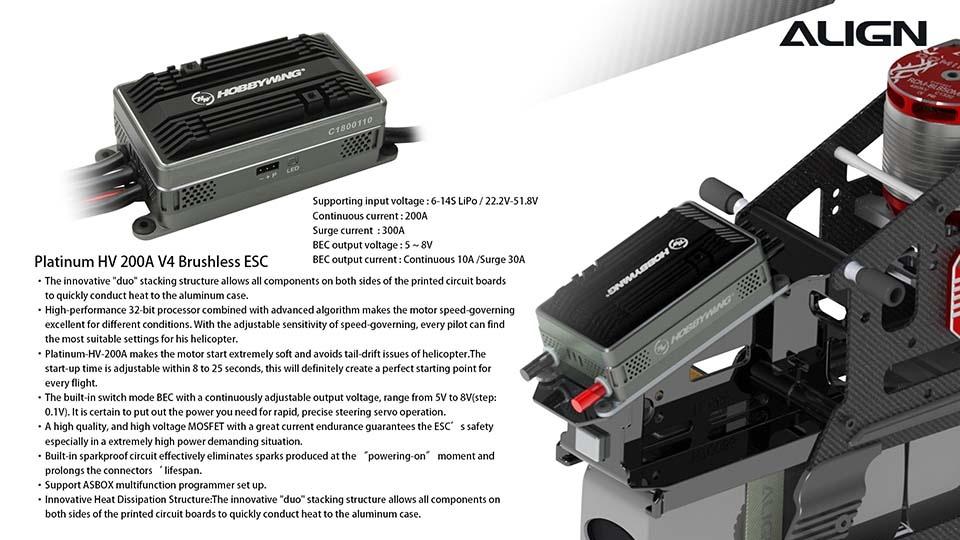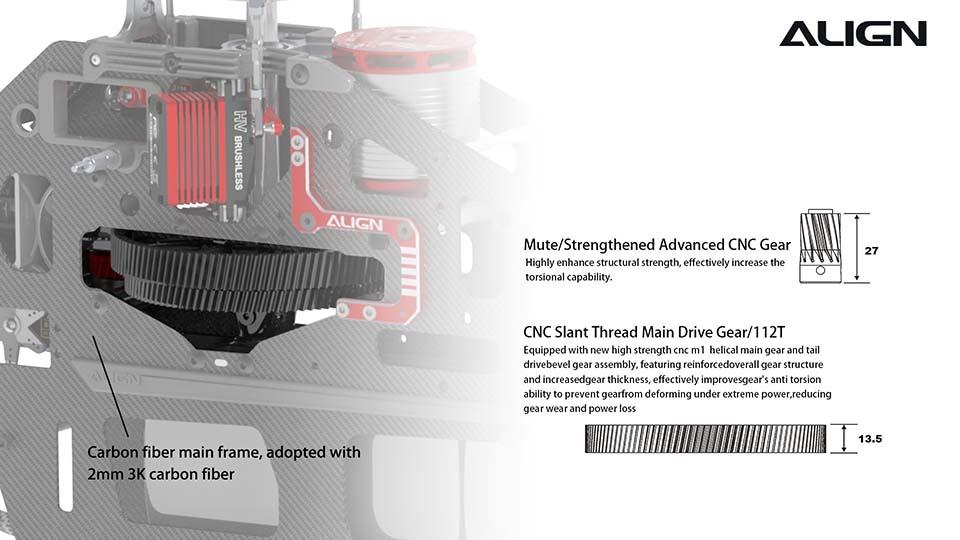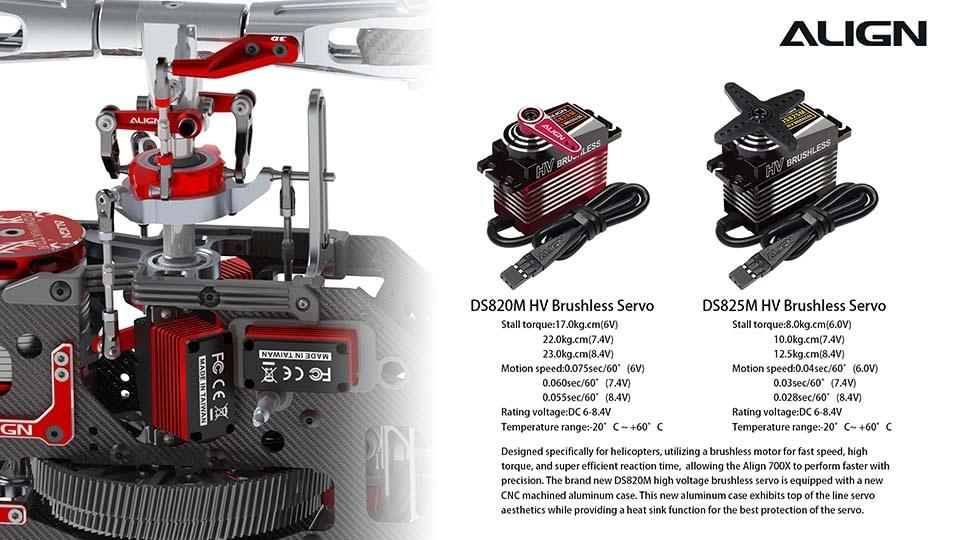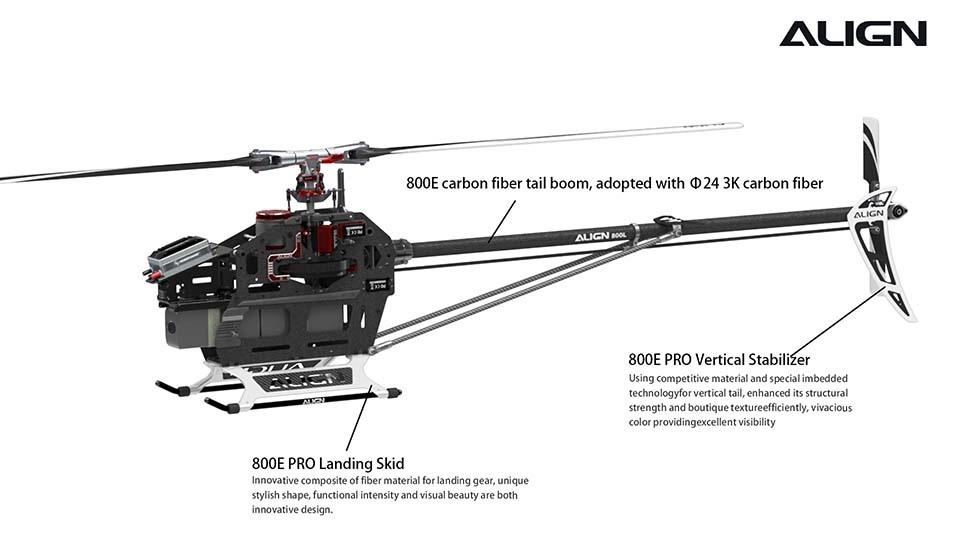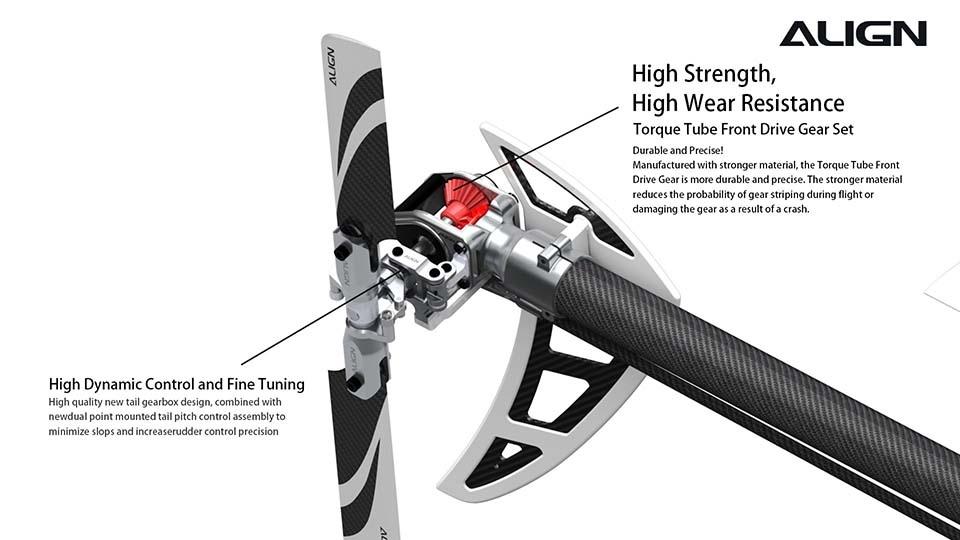 New Main Rotor Head utilizes extreme low CG design, effectively reducing resistance during flight maneuvers, increasing flight responsiveness and precision.
New F3C holder arm effectively double flight stability with excellent fine control accuracy. While 3D holder arm is suitable for basic and extreme 3D flight.
Main Rotor Grip Arms and Linkage Rod is set at 90 degree angle symmetrically precise performance.
Shapely Reinforcement Plate and Brace a specially designed for the T-REX 800E to effectively increase torsion main frame strength.
Our new 850MX motor is highly efficient, superior power, excellent torque, low current draw and operating temperature.
HOBBYWING Platinum HV V4 ESC: Fast throttle feedback, stable and agile performance, Fast processor, Cool ESC temperature keep performance more reliable, Support ASBOX Multifunction Programmer set up, and Firmware Update.
New high strength CNC M1 helical main and tail beveled drive gear assembly.
New DS820M and DS825M servos specifically for helicopters, utilizing a brushless motor for speed, high torque and super efficient reaction time.
Innovative composite fiber material landing gear, unique, stylish shape, functional innovative design.
Special material utilizing embedded technology for enhanced Vertical Stabilizer structural strength.
High strength and wear resistance drive gear set. New Dual tail pitch control assembly to minimize slop, with precision rudder control.
Electronics: Hobbywing Platinum HV 200A V4 ESC, 850MX Brushless Motor (490KV/4535), DS820M HV Digital Servo, DS825M HV Digital Servo, Microbeast Plus Flybarless System
Accessories
T-REX 800E PRO Kit
Microbeast Flybarless System
DS820M HV Brushless Servo x 3 Freq: 200hz
DS825M HV Brushless Servo Pulse: 1520µs / Freq: 333hz
Carbon Fiber Tail Boom
850MX Brushless Motor (490KV/4535)
Hobbywing Platinum HV 200 Brushless ESC
780mm Carbon Fiber Blades
115mm 3K Carbon Fiber Tail Blades
Specification
Length: 1490mm - 58.66In
Height: 402mm - 15.83In
Width: 204mm - 8.03In
Main Blade Length: 780mm - 30.71In
Main Rotor Diameter: 1740mm - 68.50In
Tail Rotor Diameter: 301mm - 11.85
Motor Drive Gear: 12T
Main Drive Gear: 112T
Autorotation Tail Drive Gear: 104T
Tail Drive Gear: 22T
Drive Gear Ratio: 9.33 : 1 : 4.73
Weight (with Motor): 4100g - 9.04Lbs