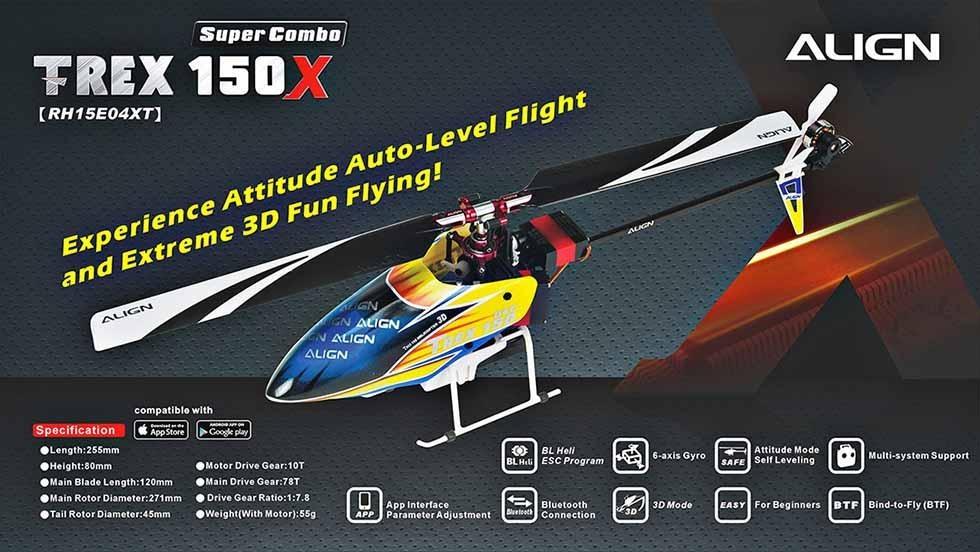 Align's smallest 3D helicopter the T-Rex 150X, carries the same superior pedigree and design concept that originated from the successful T-Rex line of helicopters. Featuring strong power, superior flight control stability, and equipped with high end components, far exceeding any other helicopters currently on the market. Integrate 6-aix gyro, receiver, ESC and Bluetooth controlling system. Set up and update the flight parameter settings via APP Interface. Support for mobile devices, iOS & Android allows easy set up and adjustment to flight parameter settings. The APP makes firmware updates easier to install. Download the FREE APP to get the latest firmware update with additional improved functions. Main motor KV value is increased to 9000KV to deliver outstanding power, torque, and high efficiency with low power consumption delivering outstanding performance. The tail motor provides superior tail authority out performing all other micro heli's on the market. T-Rex 150X features built in Futaba S-FHSS 2.4Ghz system, and support the use of Spektrum DSM2/DSMX / JR DSM2/DMSS satellite receivers. Miniature size, control precision that resembles the larger helicopters, enables you to enjoy flying inside a confined space. Beginners can even enjoy this with ease by just turning down the speed dial. The innovative breakthrough T-Rex 150X will bring you a new dimension of flying enjoyment.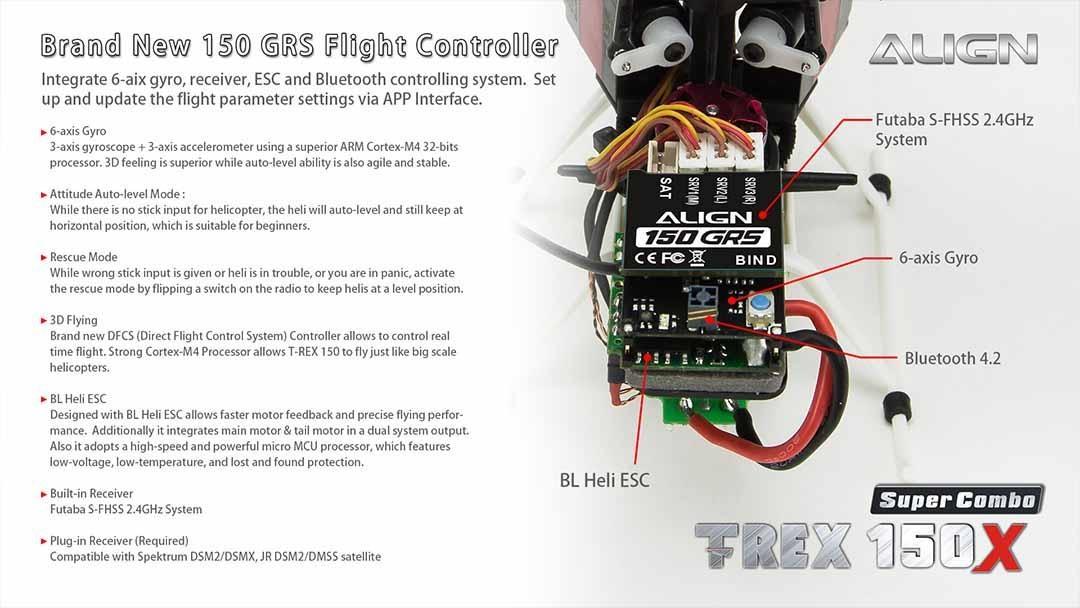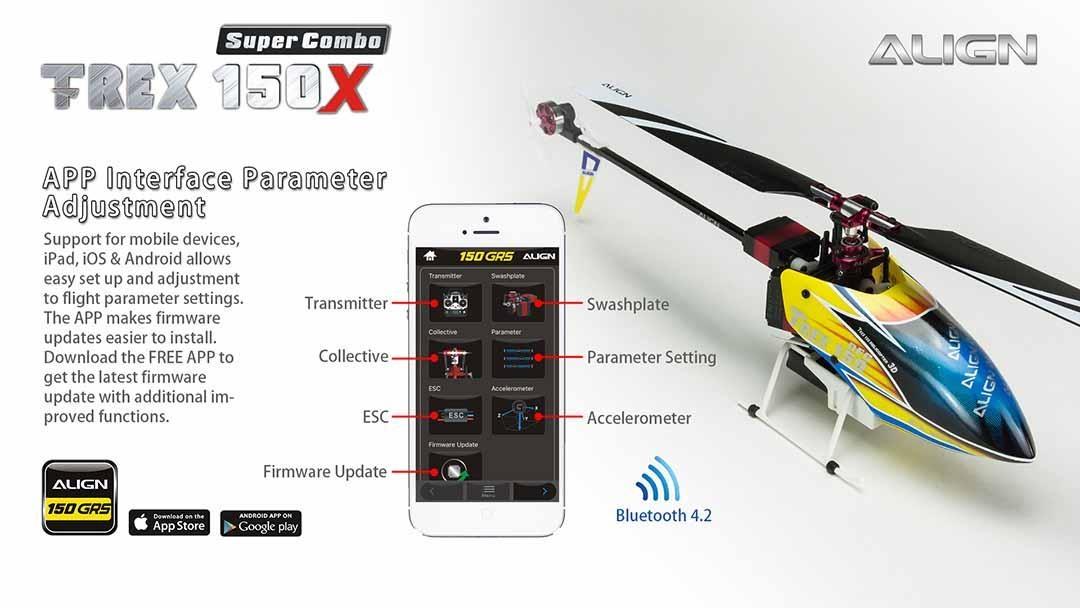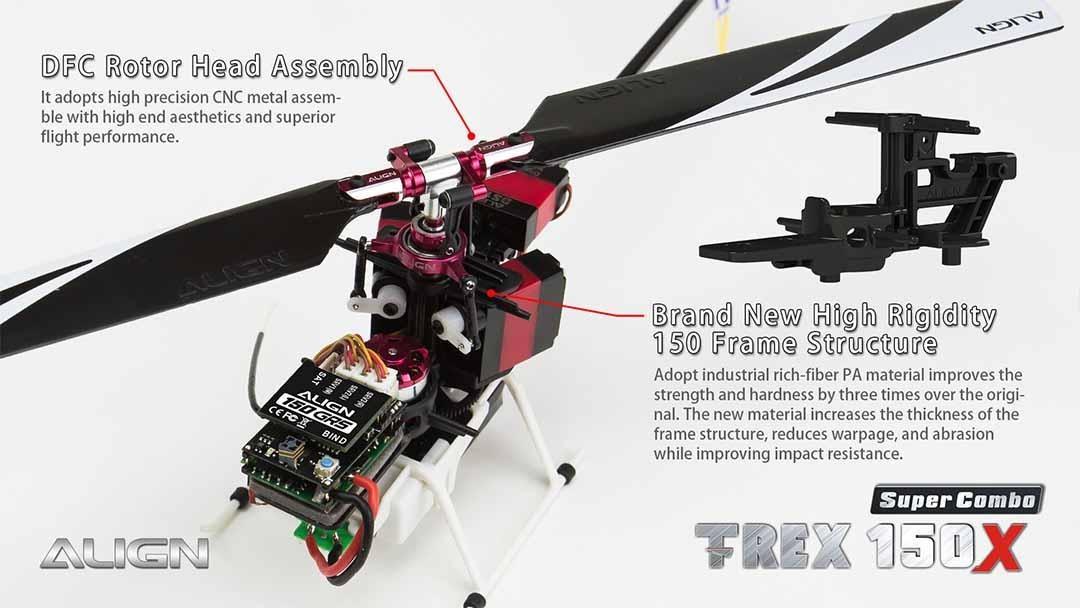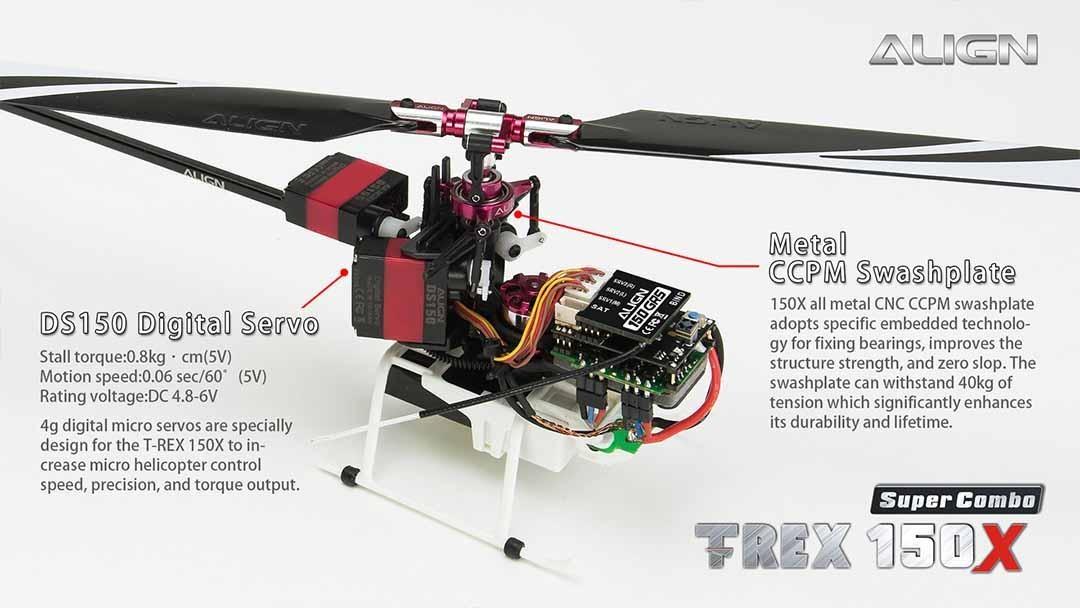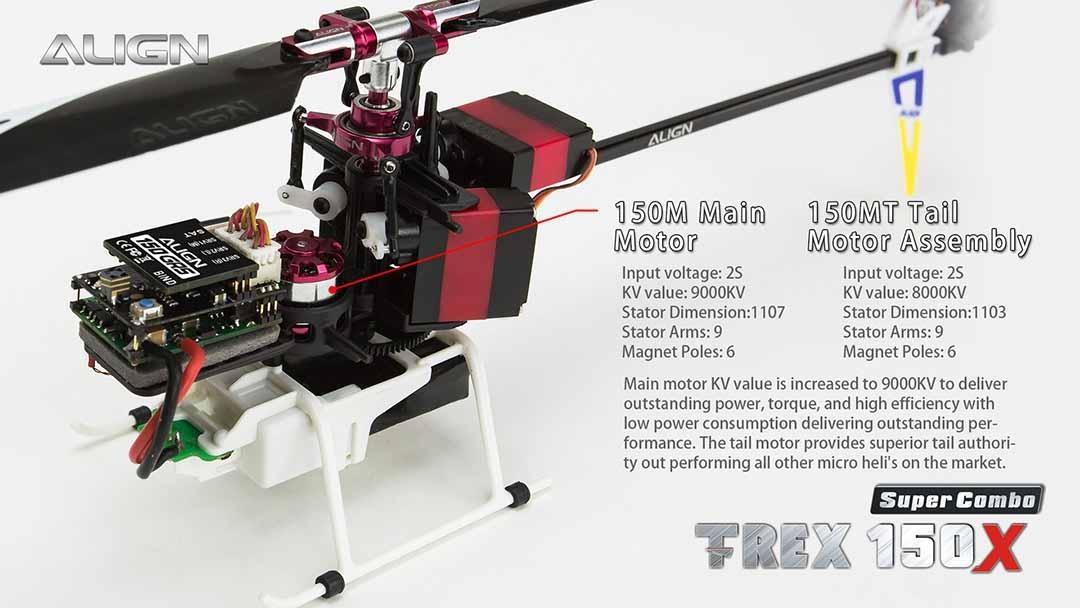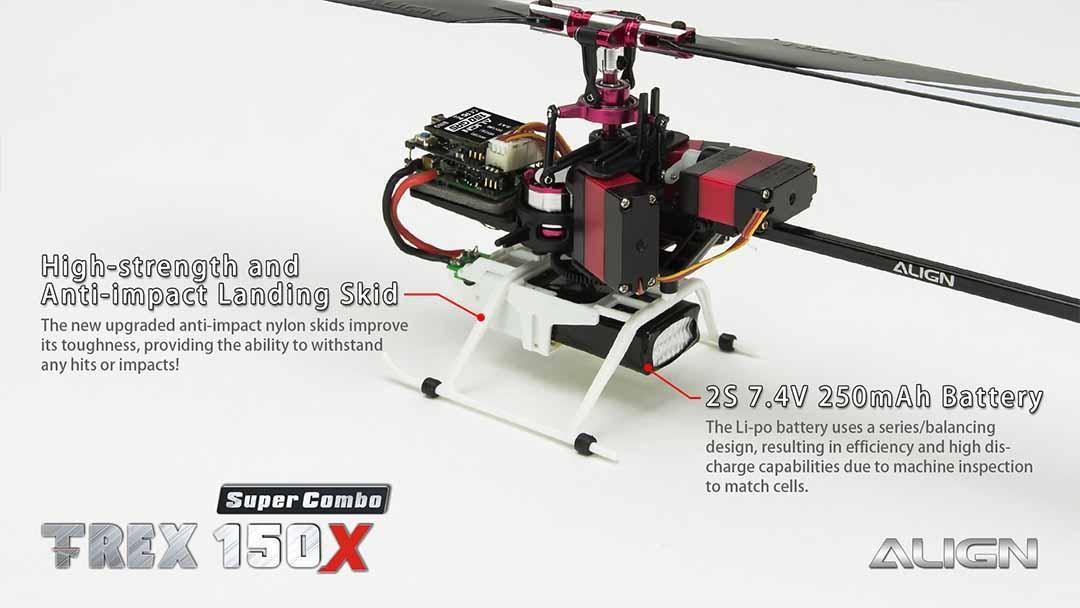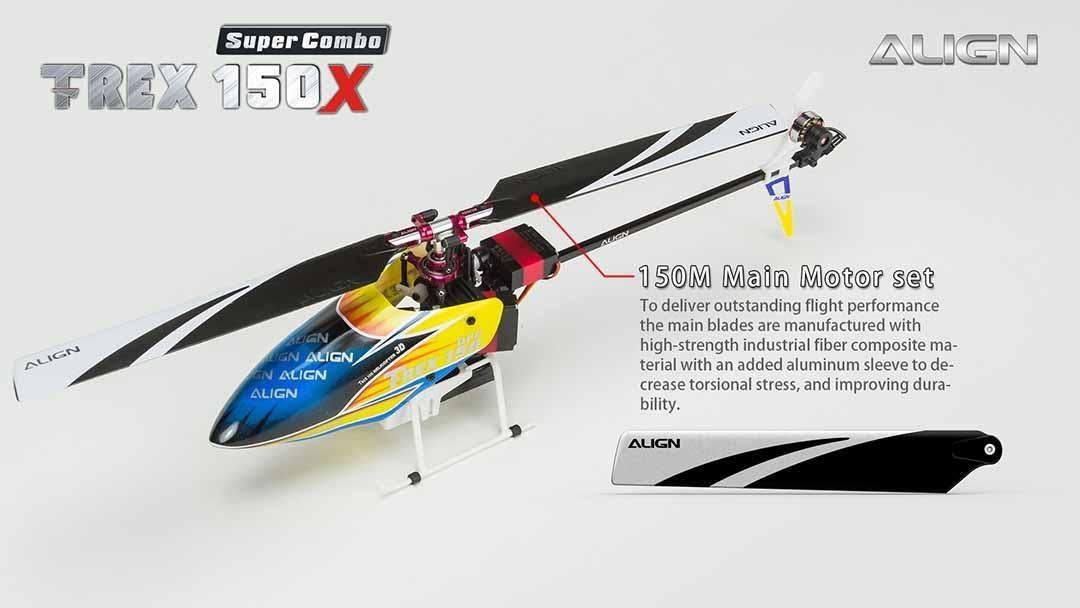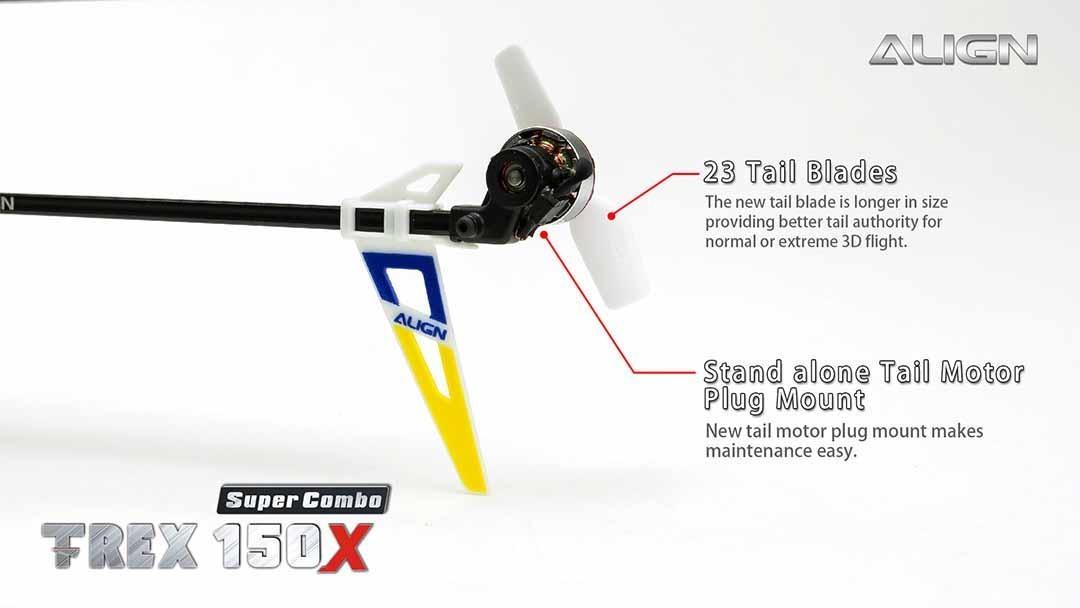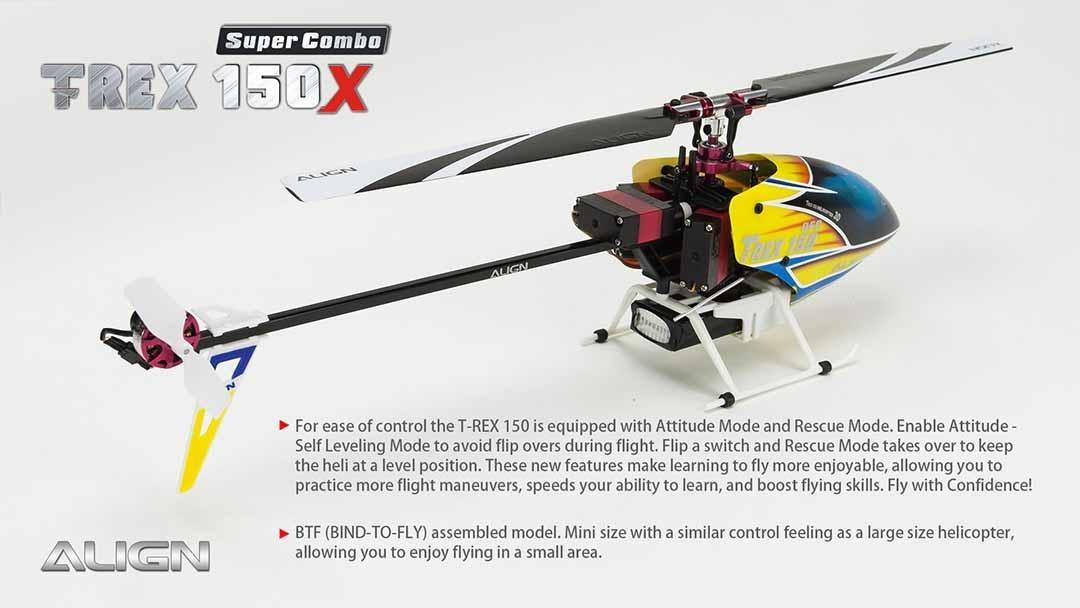 images/uniterevolution/150x/RH15E04XW_F_01.jpg
images/uniterevolution/150x/RH15E04XW_F_02.jpg
images/uniterevolution/150x/RH15E04XW_F_03.jpg
images/uniterevolution/150x/RH15E04XW_F_04.jpg
images/uniterevolution/150x/RH15E04XW_F_05.jpg
images/uniterevolution/150x/RH15E04XW_F_06.jpg
images/uniterevolution/150x/RH15E04XW_F_07.jpg
images/uniterevolution/150x/RH15E04XW_F_08.jpg
images/uniterevolution/150x/RH15E04XW_F_09.jpg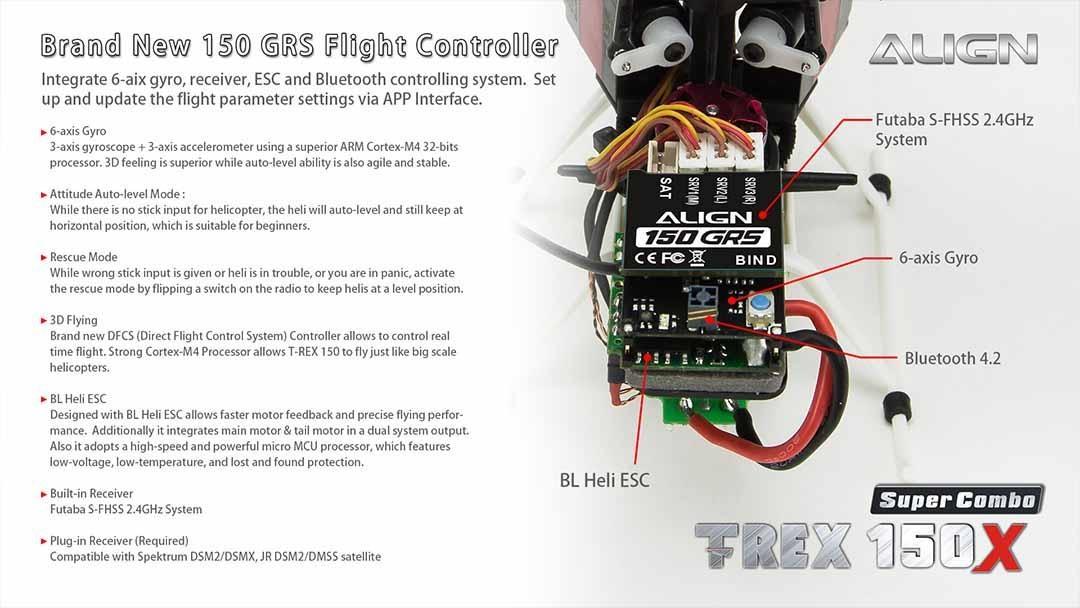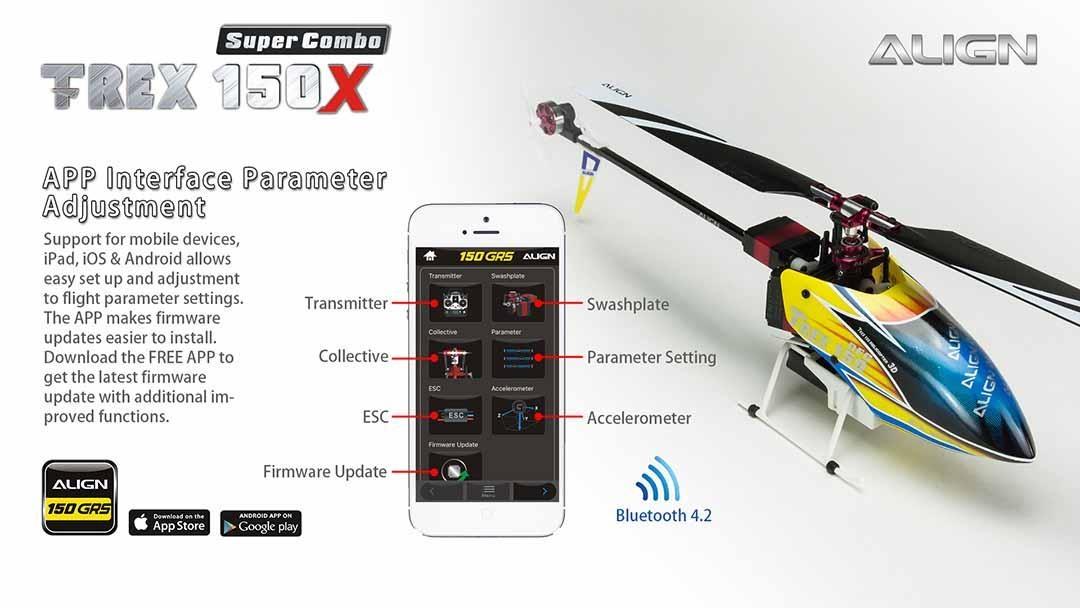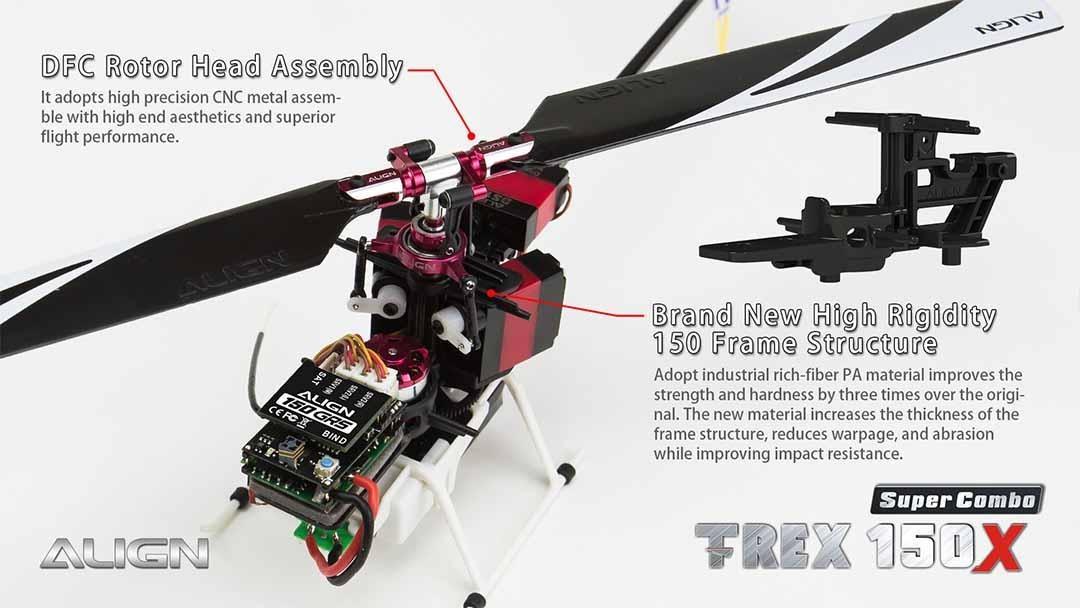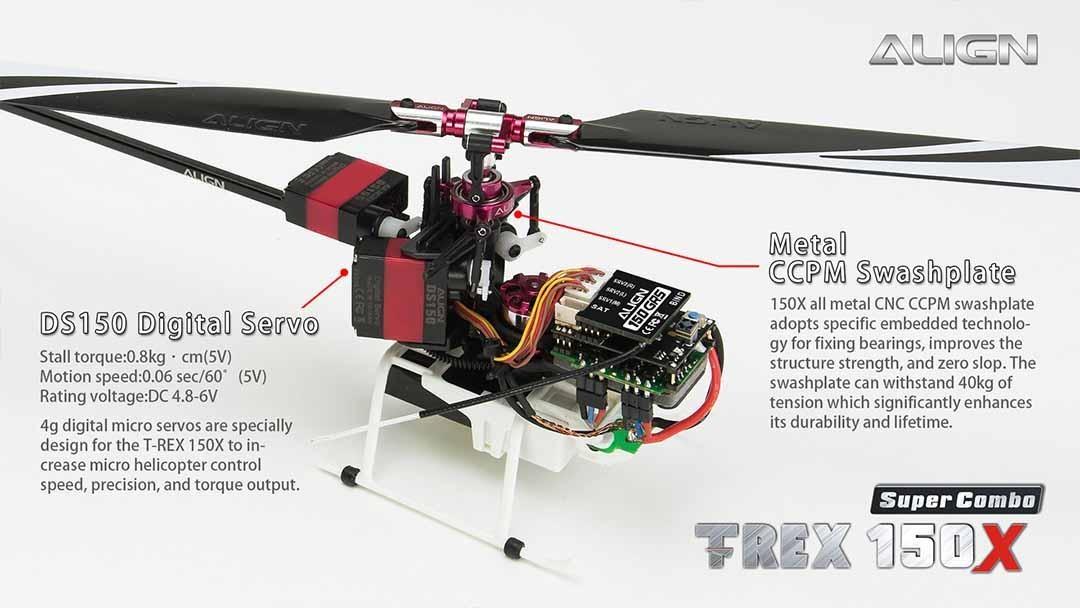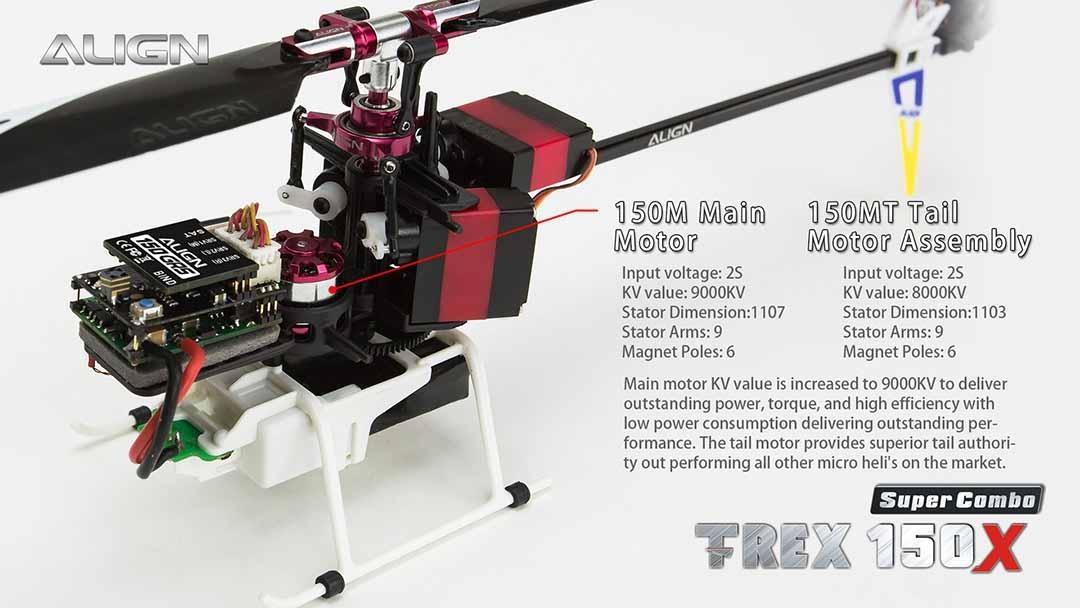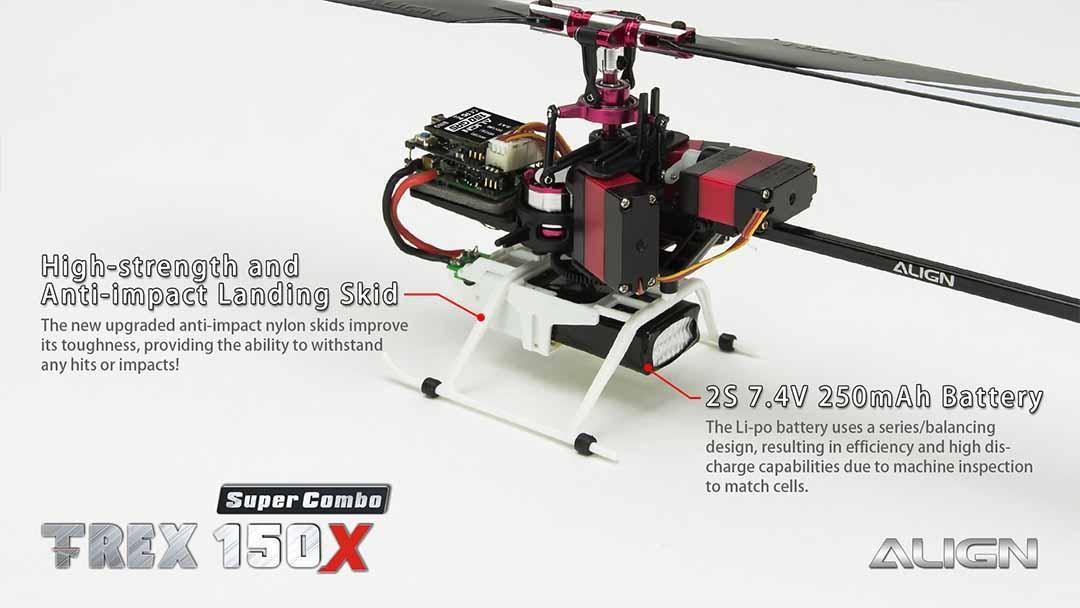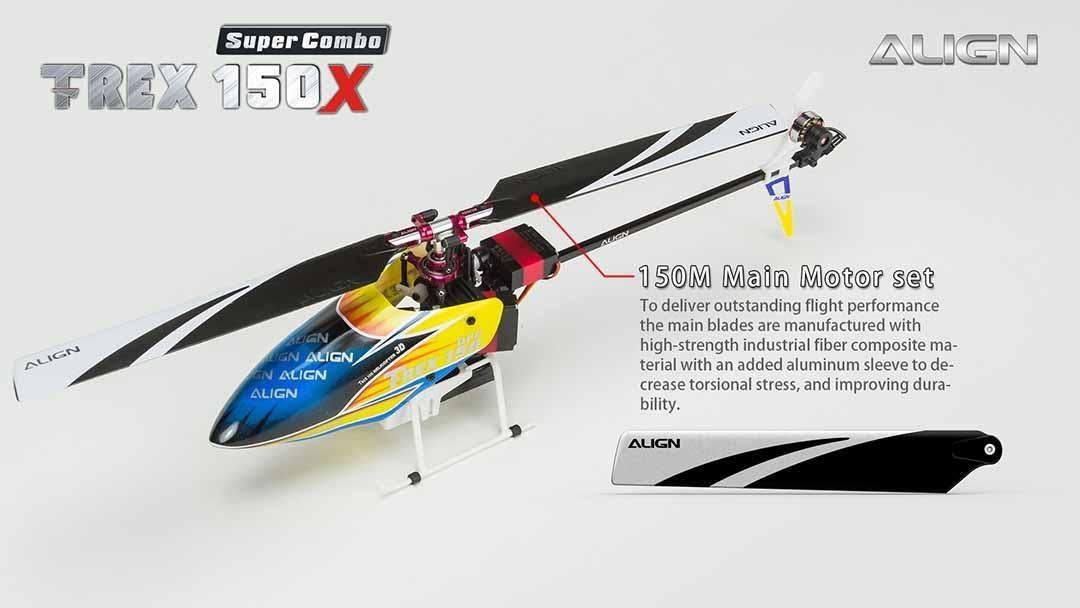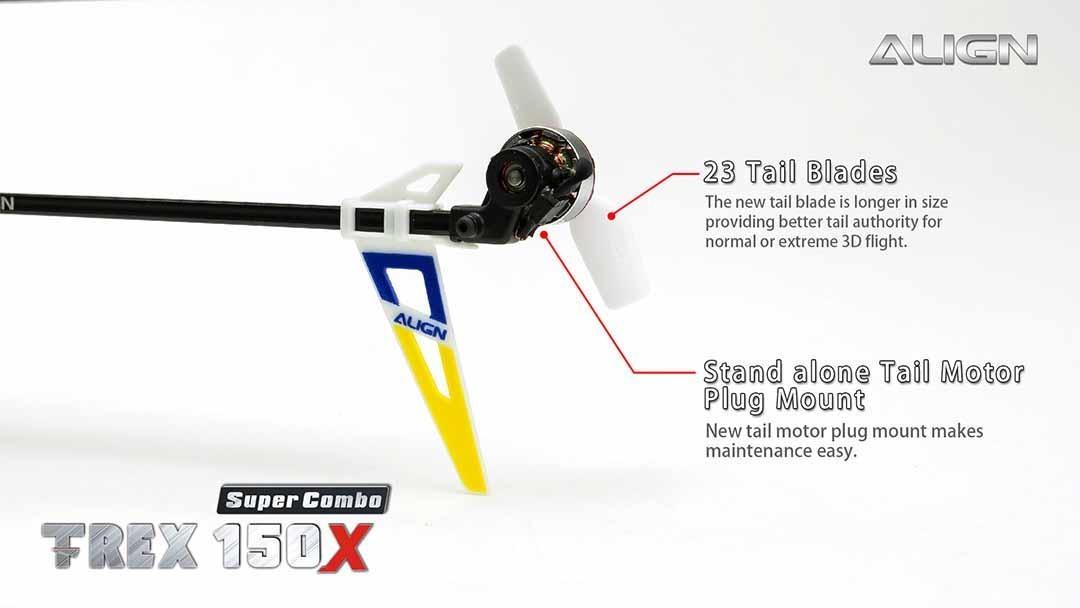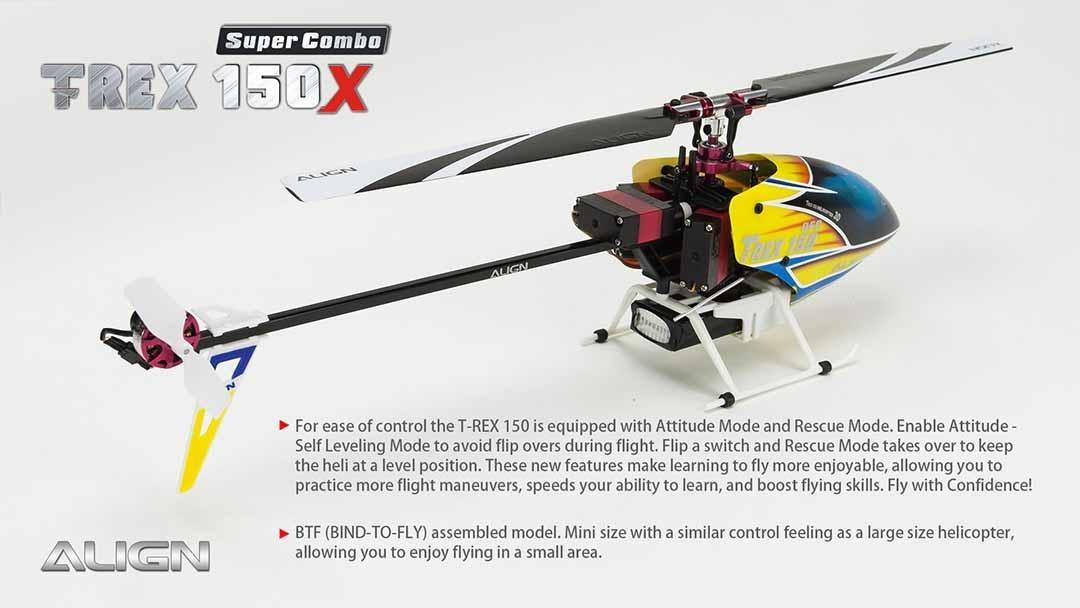 For ease of control the T-REX 150 is equipped with Attitude Mode. Enable Attitude Mode to avoid flip overs during flight. Flip a switch takes over to keep the heli at a level position. These new features make learning to fly more enjoyable, allowing you to practice more flight maneuvers, speeds your ability to learn, and boost flying skills. Fly with Confidence!
Standard Equipment
T-REX 150X Kit
150M Main Brushless Motor (9000KV)
150M Tail Brushless Motor (8000KV)
DS150 Digital Servo x 2
DS155 Digital Servo
150 Main Blades
23 Tail Rotor Blade
7.4V Li-Po 300mAh
Remote Sat Extension
Specification
Length: 255mm - 16.97In
Height: 80mm - 4.13In
Main Blade Length: 120mm
Main Rotor Diameter: 271mm
Tail Rotor Diameter: 45mm
Motor Drive Gear: 10T
Main Drive Gear: 78T

Drive Gear Ratio: 1 : 7.8
Weight (No Battery): 55g - 0.571Lbs